WHY CHOOSE US.
Keep fit, follow a healthy lifestyle with us!
ABOUT US.
We are one of the leading manufacturers of Sportswear and Activewear in Pakistan. We are making our products with the key focus on quality and comfort.
Whether you have style on top of your priority list or quality, there is no need to go anywhere else. Glowish Impex is a prominent name that is offering comfortable, stylish and durable products to its customers.
Our products are available at very reasonable prices so that it can suit anyone's budget. We have a team of highly skilled and experienced professionals who know their traits very well. Our team of in-house designers is facilitating our customers with their customization requirements in the best possible way.
Our Product range includes Fitness & Crossfit, MMA Gear, Teamwear, Martial Arts and Sports – Casual Wear For casual wear, you can find a wide range of Sports Wear and Accessories for men and women of all ages. Glowish Impex is also known for its performance driven gloves, elasticated gears and protective gear.​
FEATURED PRODUCTS.
Keep fit, follow a healthy lifestyle with us!
EXPLORE US MORE.
Achieve Your Full Potential.
GET STARTED WITH YOUR
CUSTOM GYM ACCESSORIES
Glowish Impex is a reputable, international supplier of high quality gym clothing and fitness accessories. Buy a brilliant range of gym wear clothing for men and women, for a whole range of fitness wear. We create functional, high-performance fitness & Activewear that inspires women to move with confidence.

Free Artwork
Attach your logo and your design requirements.
Price Beat Guarantee
We believe we offer the best prices .

Fast Turnaround
Our regular production time is 2-3 weeks.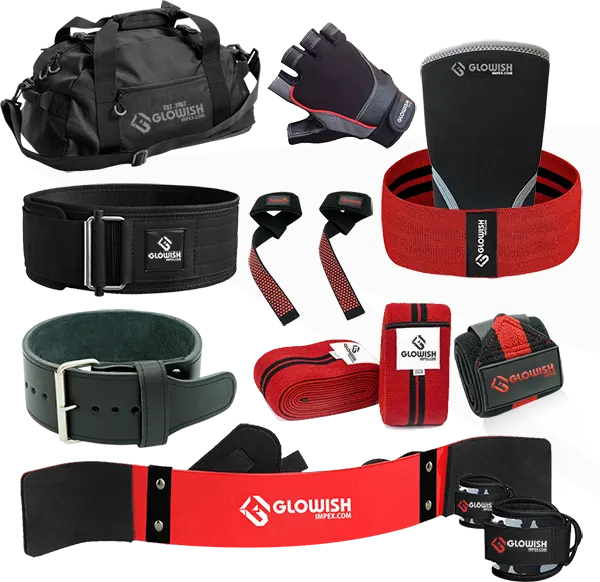 GYM TRAINING ACCESSORY.
Accessory Yourself For Training

Glowish Impex has a long history of working with companies help them raise brand awareness through printed clothing and printed merchandise.

We have rapidly built a reputation as sublimated garments experts for teams, events and brands across the Globe.
In an era of specialization, Glowish Impex knows embroidery. We use state of the art equipment to assure quality and accuracy.